North Bali is a diver's paradise, it is said that the more you travel north and westward, the more you will uncover Bali's intrinsic beauty both on land and underwater. Dedicated divers have traveled all the way from Denpasar for diving in Menjangan Island – and it's now a lot easier to reach and more family-friendly than ever before.
How to reach Menjangan?
Unlike other dive sites in Bali, such as Padang Bai, Blue Lagoon and Amed, Menjangan is an island, and the closest shore to the main island is West Bali National Park, which means only guests of the national park are allowed to reach the island from there.
However, other guests can travel via Labuhan Lalang, a small harbor in a fishing village. If you plan to travel to Bali with kids, rest assured that the trip is going to be extremely fun for the whole family.
What makes diving in Menjangan so special?
Menjangan means 'deer' in the local language, referring to a healthy population of deer in one of the most preserved natural sanctuaries in Bali. Of course, you can find rich wildlife not only on land but also underwater.
Thriving in seclusion are densely populated coral reefs with 45 different species, making the zone one of the most diverse in Southeast Asia. About 41 species of reef fish and mollusks make their home in Menjangan Island.
The calm waters offer a gentle haven for young divers and snorkelers alike, making it the perfect location for a family day trip.
Dive Site #1: Secret Bay
Ideal for macro divers who have an eye for detail, the 10-meter dive site is packed with surprises, as shallow waters mean you will find more densely populated coral reefs. Reclusive seahorses can be spotted more easily among the sea grass, and the lionfish with flashy colors blend themselves in the corals that are equally brilliantly colored.
It is recommended to visit the Secret Bay when the tides are higher as the entry may be challenging during low tide.
Dive Site #2: Eel Garden
In the far distant white sands, you may spot a group of something that sways in the gentle current, and it appears to be sea grass that keeps their distance from one another. But upon closer inspection, they are in fact garden eels, tethered faithfully to their burrows, and only sticking up their head to feed – and greet divers!
Following the current, you can find a school of mackerels and take a glimpse of giant wahoos and trevallies swimming in the distance. Diving in Menjangan is truly a unique experience!
Dive Site #3: Anchor Wreck a.k.a. Kapal Budak
Very little is known about this wooden shipwreck. Locals refer to it as kapal budak, which may give you clues to its dark and secretive past (translated: slaver's ship)! Whether that is a local legend or burried history, there are more mysteries that surround this wreck.
Remains of this ship can be found scattered from 35 meters to 50 meters – deeper than the recommended diving depth with normal gear. Unless you are a technical diver with specialized gear and knowledge in deep diving in Menjangan, you are unlikely to uncover its hidden secrets.
Maybe some mysteries are meant to be unresolved, but you can be assured that the wreck has contributed positively to the coral ecosystem, enriching the area surrounding it. The reef above is thriving and an easy dive for recreational divers, if you are traveling with kids - regale them with stories of this secret wreck in Menjangan.
Have you ever stayed in an eco-resort inside a national park?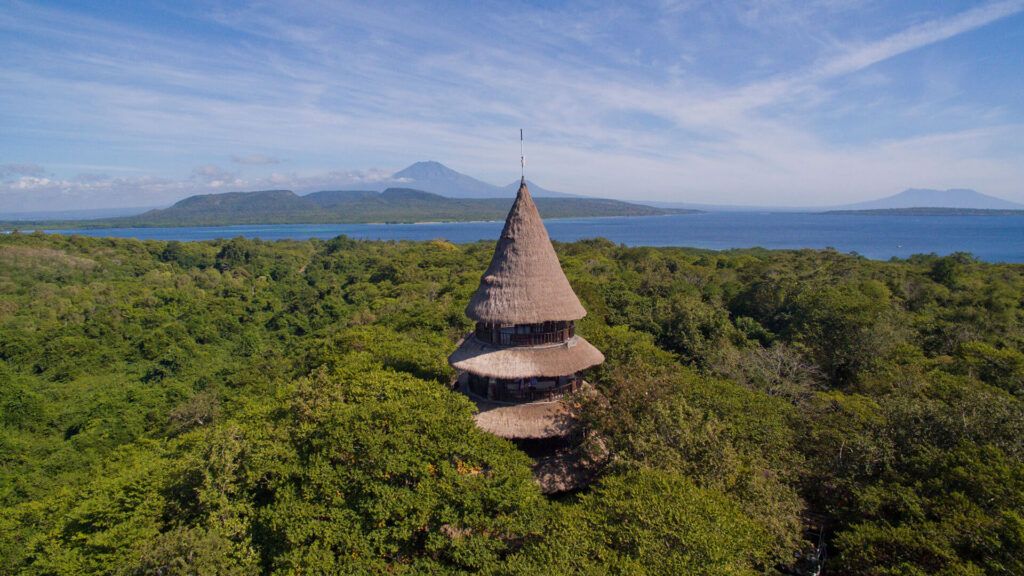 The Menjangan resort is one of the few eco-resorts in the world that takes on the challenge of balancing comfort with sustainability. Our resort provides accommodation for those who have dreamed of being completely immersed in nature and experiencing a life with reduced environmental footprint. Learn about our resort activities, such as snorkeling, diving at Menjangan Island and horseback riding!